"Visions of the Future" Mara Jade Costume (The Green Costume)
<![if !vml]>
<![endif]> <![if !vml]>

<![endif]>
I always liked this costume.  The black assassin's rig that many people wear when dressing up as Mara's nice, but it always felt to me like her 'dark side' costume.  And the green one always felt like her Jedi costume.
I did this costume once before, (images can be found here) but I didn't like it so this is my second attempt.  I like how it came out much better this time.
Notes about making the costume (I was going more to look like the original cover art from "Visions of the Future" than the Star Wars Insider version):
I used green stretchy pants from JCPennys that I stretched (and will eventually modify) to fit more like tights.

 

If allowed to sit normally, they're a little baggy.
For the jumper, I used a dress pattern with princess seams and a V neckline, then cut the dress off above the knees.

 

I made the dress once in muslin from the pattern, then again in the green fabric.

 

I picked a forest-green 2-way semi-stretchy fabric.

 

It took me much longer than I expected to find fabric I liked.
For the shoulder pads

I shaped them out of black Femo and carved the indents into them
I cooked them on rolled aluminum foil to force them to keep their shape.

 

Then I then spray painted them with silver paint (I taped over the large areas I wanted to remain black)
Then I wore them with the costume for about 2 events (the paint I used remained slightly tacky).

 

This allowed them to get a slightly beat up look because I personally prefer armor to look worn.

 

They looked pretty good freshly painted though.

 

It's just a preference I have.
Then I spray painted them again with a matte coating to make it hold the 'battle wear'
I originally embedded magnetic bag clips in the femo to make them attach and detach to my costume but found that the dress didn't have the necessary structure to support it.

 

I eventually glued jewelry pins (3-4 per shoulder pad) to the back of them with krazy glue
I also ran a single strand of fishing line between the shoulder pads (along my back) so that they were held up by each-other rather than relying on the dress's fabric entirely.

 

I also ran a piece of stronger fabric under the neck line of the back of the dress to reinforce the fabric against the weight of the Femo.

For the brooch: I also sculpted this out of Femo and spray painted it silver, then let wear and tear make it look less shiney.
I sewed the bag out of brown vinyl. (I made my original shoulder pads out of black felt and brown vinyl that matched the bag).

 

Eventually I'd like to replace this with something more durable.
I found a brown belt that fit my covertec clip that had a rectangular belt buckle. It's not perfect but it's good for now.
Since you can't see her footwear in either of the pictures, I decided to go with black riding boots.
I bought a red wig from

www.beautytrends.com

.

 

Some people get the red-gold wigs, but I'd look bad with hair that light.

 

(I think I got "Lady Joanne")
Here are some pictures of the shoulder pads during construction:
<![if !vml]>
<![endif]><![if !vml]>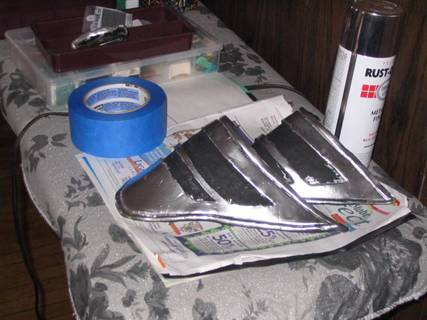 <![endif]>
And here are some pictures of the final product.  (Depending on my mood and the event, I either use my Parks/Deciphers pink Emperor's Hand lightsaber or my FX Anakin/Luke lightsaber which is the correct one for the costume).
<![if !vml]>
<![endif]>
<![if !vml]>
<![endif]><![if !vml]>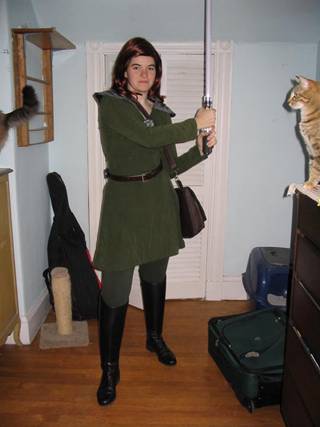 <![endif]><![if !vml]>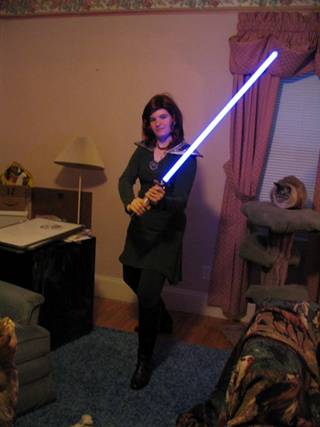 <![endif]>
The major difference between the cover art for the original picture and the Star Wars Insider photo-shoot, for me, is the shoulder-pads.  In the art, the shoulder pads look metallic while the ones in the Insider issue look like foam or possibly vinyl to me.  I like the look of the metallic ones much better.
Email questions to: jedi rissa gmail com