We saw a nice Link while in line.


We also saw a nice robot though we didn't know what it was from.


And a really nice Lu Bu while in line.



Amanda-Chan summoning her WoW (World of Warcraft) horde.


And some Jedi in line later that day (couldn't get them to pose).



Princess Mononoke.



Another Miasake creation: No Face.


Swords. Lots of (big) swords.


Pocky. Biiiig Pocky.


Squall from FF8.


Pirokiko (complete with big gun) from Megatokyo.


Pirokiko again.



One of the many Miho's.


A nice Junpei (man he's tall).


Junpei. Miho. Glomp. That's all that needs saying.



Ed (complete w/ paper bag).


Rissa's attempt at Erika from Megatokyo (panel 626) as Kasumi from Dead or Alive.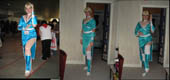 Rissa forgot her tabi socks for the con so here's some pics from home w/the socks.


Random Ninja (possibly Junpei).